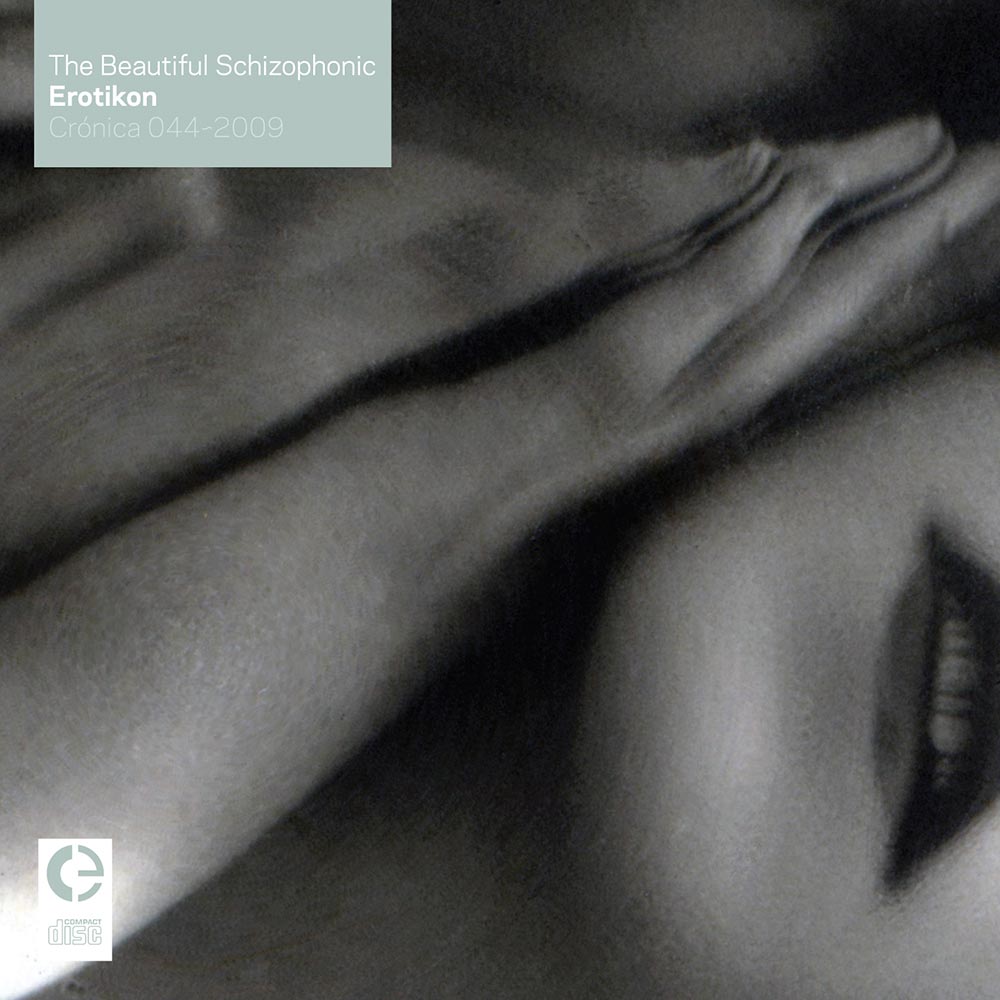 The Beautiful SchizophonicErotikon
Crónica 044 CD sold out
Release: 13 July 2009
Get from Bandcamp
Furla
Aysha
Bambilány
Blumarine
Musgo
Nocturnosque
Aliénor d'Aquitaine
Alba
Orlík
Fornarina
Pollen
I dream of dead poets and supermodels, fancy software and scenic drives, Paris or Los Angeles on a late night flight, maybe a PowerBook in a Louis Vuitton bag with a picture of you on the seventeen inches wide screen, I dream of glossy drones and dark eyeliners, long legs and bright sounds, fake breasts and uptight asses, I feel like the speed of your heart when you're so full of grace, I feel like the light in your smile, the slip of the tongue, I float an inch from the sky to the point of you, I'm out of my eyes with a ballad, washing with kindly tears, I cherish the acoustics of your invisible caress, I undress you in poetry, I read your body, soul of doll, I taste your body of sound with the acoustic memory of love, your flesh in stereo, drunken with loud cells on the rocks, resonance of an old soul with metasynth delay, oh you're so cute when you loop my heart, you are a beautiful loop in my heart, a phantom voice in high heels, you you so you, baby blue eyes drinking champagne underwater, kissing my heart shaped ears, you look beautiful when you dream, you are all the night gave me in return, you whisper in sweetness the distant melody of the stars, suggesting but truth to my divining, I'm just this superficial guy though, plain and superficial, like your skin when you striptease me, when you fuck me like a virgin, I'm a dirty romantic, too sexy for myself, more a loner than a wolf, more a bleeder than a bruiser, night cruiser with a faded touch of love, chasing in dreams the heart of it all, in dreams, in dreams, like when we walk together, hand in hand, like two strangers, and then your pony tail, pink pony, the ten thousand ponies of your pyjama running every night after me, and then the sound, the almighty sound, the greatest sound of all, the sound of you kissing the snow with dark blue lips.
I dream you are a song. Love Forevermore.
Credits
All tracks composed by Jorge Mantas, except track 6 by The Refractors (J. Martinez) and track 9 by Sleeping Me and Jorge Mantas. Special guests: Christina Vantzou (voice on 2, 3 & 4, rhodes on 2), Yui Onodera (piano on 8), Sleeping Me (guitar on 9), The Refractors (piano on 6). Track 8 contains a sample of a 1860 recording of Au Clair de la Lune, possibly the first recording ever of a human voice.
Designed by P. Tudela and M. Carvalhais
Postcards courtesy of Paulo Silva
Mastered by M. Carvalhais