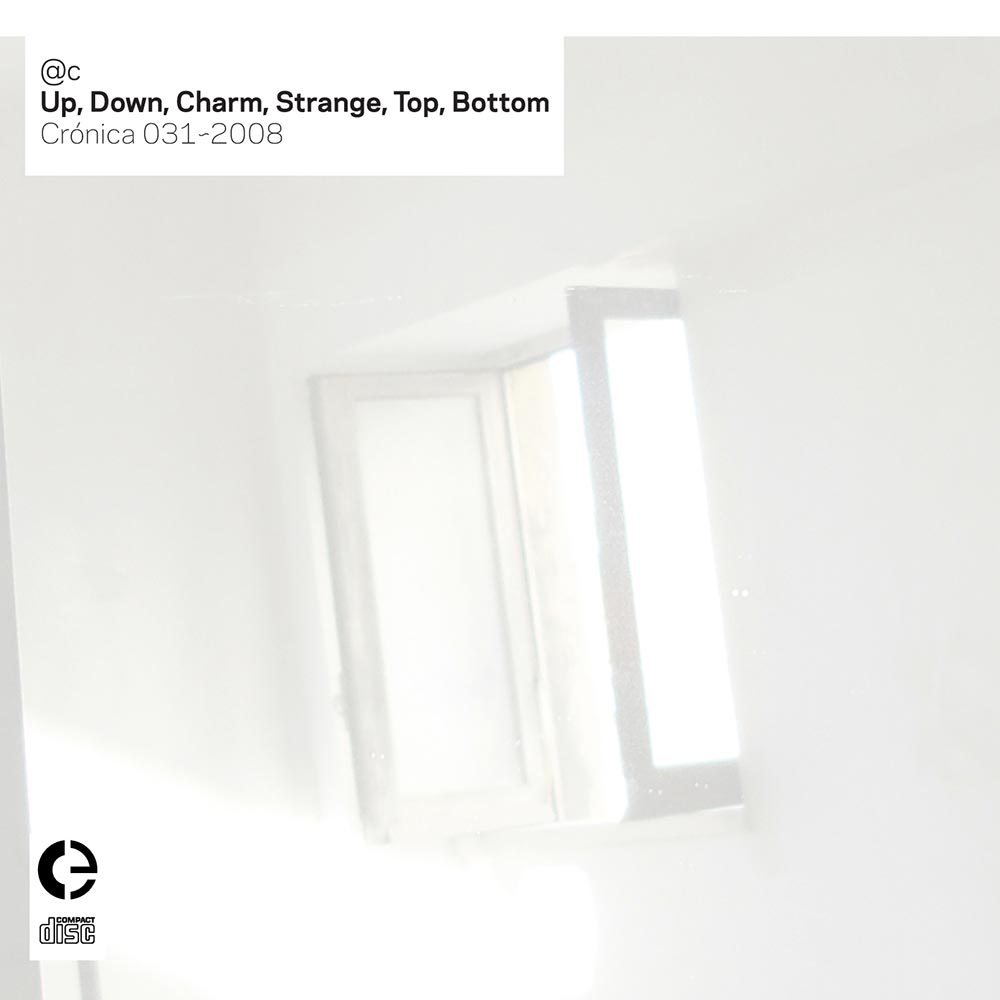 @cUp, Down, Charm, Strange, Top, Bottom
Crónica 031 CD
Release: 27 February 2008
Get from Bandcamp
62
71
72
61
Up, Down, Charm, Strange, Top, Bottom is our seventh full-length release, and the third in Crónica. The four tracks in this CD are composed from studio, live and field recordings that span a period of five years in our work, influenced by the various collaborations we developed over that time. 61 and 62 were performed live in several venues and in various development versions since early 2006.
Some of the collaborators found their way into the compositions as "sampled guests", as bits of sound collected from live performances or studio work. Their presence is both a testimonial of the crossing (or forking) paths and a hommage to those musicians that contributed to our ongoing work in progress.
Building a CD like this, a studio composition, is perhaps much like sculpting, constructing a fixed and closed relationship between parts; it is also like photographing, framing a certain composition from within its vaster surroundings. It is like editing a documentary, shifting the focus from the individual pieces, found or produced, towards their connections, balances and compositions. It sometimes feels like the work of a mechanic or a watchmaker, in which individual pieces are tooled to work in a much larger and complex system.
When working on Up, Down, Charm, Strange, Top, Bottom, we found ourselves between formats, between different possible models for the realization of this fixation of sound. What should a CD be? Should it be the registration of a piece (or of several pieces) in a canonic form? Should it be a device for the recreation of a multitude of pieces, where each playback may yield a new becoming of a composition, where each listening act, with its different, personalized and unique focus, shapes the sounds, combing them in individual interpretations, as when reading a poem out loud?
All representation is false, therefore, concrete music does not aim to represent or to convey anything in a romantic sense, using the music as a medium to transmit anything other than itself. Francastel: A work of art is not an imitation of reality: it cannot take the place of reality; a work of art does not excite the same sensations as nature. McLuhan: The medium is the message. Negroponte: The medium is not the message. @c: The message is the medium and the moment. The CD is not communicating a live performance or an idealized composition, rather, the CD is itself, and will become music each time it is played, to everyone and everywhere it is so.
Up, Down, Charm, Strange, Top, Bottom is one more step in finding our way in music, looking for something we can't really define. Explorers, we. Finding through doing, acting and doing.
Composed and mastered by Miguel Carvalhais and Pedro Tudela
Cover photos by Pedro Tudela
Cover art by Lia
Design by MCarvalhais
Files recorded from 2002 to 2007 in Glasgow, Guimarães, Helsinki, Lille, Linz, Lisboa, London, Maputo, München, Palmela, Porto, Roubaix, Savala, Sonega, Vienna, Vila do Conde, Viseu. 61 includes recordings with Cheny Gune (voice), Gustavo Costa, (percussion), Jonathan Uliel (percussion), Kenji Siratori (voice), Matchume Zango (percussion), Miquel Bernat (percussion), Neil Davidson (guitar), Raymond MacDonald (saxophone), Rita Azevedo Pinto (voice), Tinoca Zimba (percussion), Ulrich Mitzlaff (electric cello). Percussion in 62 performed by Miquel Bernat, recorded by @c in Passos Manuel, Porto.